Greetings from the team at Studio Shed! As we hit the ground running this year, we'd like to extend a big thank you to all of our customers who made 2015 our best year yet. Keep an eye on this newsletter for the latest updates as we further expand our product offerings and services this year! We've got another great story this month from a recent installation in Mountain View, CA. Astrid Gaiser needed a new office space for her thriving landscape design business and found Studio Shed to be the perfect match to her beautiful 1954 Eichler home. If your plans for 2016 involve making more time for your creative side, a more focused work environment, or simply a more organized living space, take a look at her story to learn how a Studio Shed provides so much more than just some extra space:
The day her Studio Shed structure arrived on a flatbed truck, Astrid watched the contractor's team unload the modular pieces and start to build. "Usually construction is so painfully slow," she said. "But not with Studio Shed. At 1:30 pm, they unloaded. By 4:30 pm the whole structure was up. The entire frame, the rafters, three walls."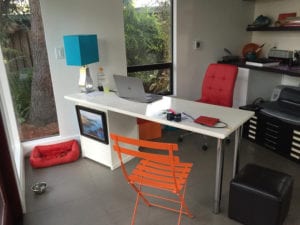 In two weeks, the studio was completely finished, inside and out – the process stretched out a bit by delays for required town building inspections. Astrid loves her new work environment. "Having dedicated office space changes everything. It's so practical. I had 14 feet of built-in storage and counter space installed across the whole back wall. Everything is right where I need it, including space for client meetings. It's a super cozy workspace – and so airy, it's like being a treehouse. The interior has beautiful light and a nice cross breeze. The floor's radiant heat is all I need in winter."
What surprised Astrid most, she said, was how her new Studio Shed office changed the way she works and lives. "In my studio, I concentrate fully. With fewer distractions, I get more done in a day. I feel like I work better, but less. At first, I felt guilty closing the door and going home. Then I realized, 'this is what efficiency feels like.'"
Thanks for checking in.