Process
How It Works!
Planning, Design and Installation
Start with our 3D Design Center to create a design, then schedule a free consultation with a Studio Shed advisor to plan your project. The Studio team will shepherd your project through permitting and fulfill your dream design in a matter of months.

Start with our Design Center

Customer Configuration

When installation is purchased, we initiate communication with a contractor within Studio Shed's installation network. This contractor will come review your project on-site and with their input you will fill out an informational checklist. This document provides information necessary for the site work estimate and is required to inform Studio Shed's permit plan set.
Introduction to Studio Shed Network Contractor
Site Visit Permitted Checklist

— Existing and proposed utilities

— Foundation type and project scope

— Building use and interior layout

— HVAC and water heater details

— Photos of build site (with utility locates marked)

Answer Customer's Pre-Construction Questions

Estimate for Scope Outside of Studio Shed Kit

— Foundation

— Site Work

— Deck

— Other
Providing access to site

Providing needed information

Verifying project is possible through building department or HOA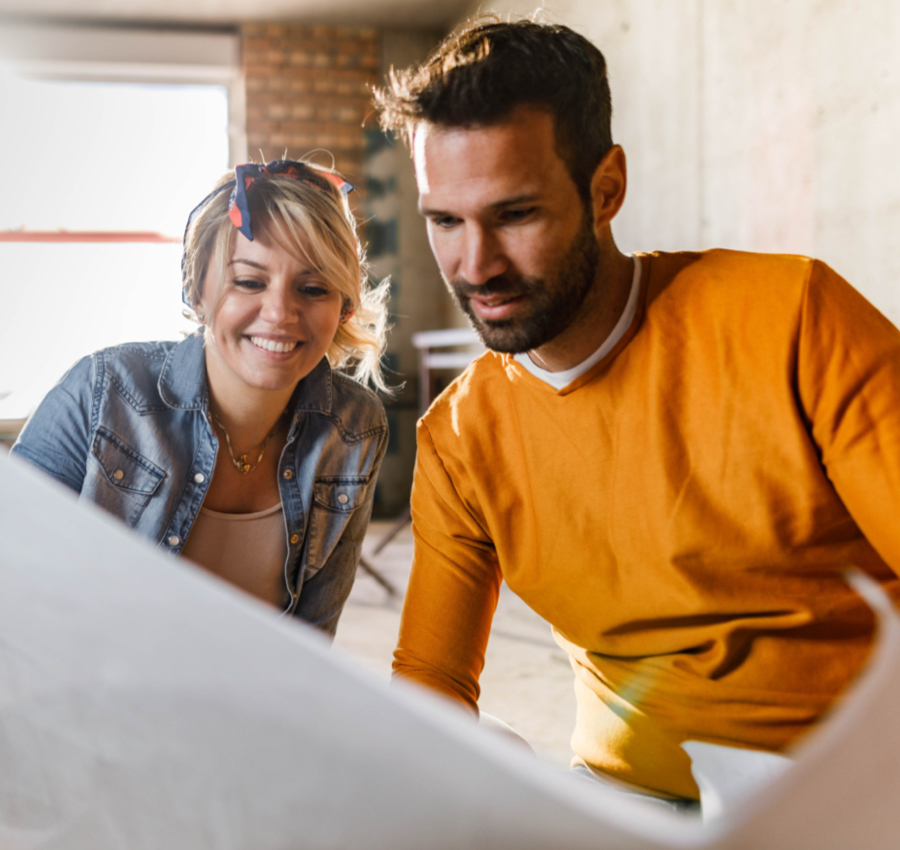 Order Placement & Deposit

Design Coordination

2+ Weeks

Studio Shed's Design Coordinator prepares your site plan, floor plan, and elevations based on your configuration and the site visit. We share this Coordination Set with you for final approval then include them in the contract.
Exterior Shell Design and Colors

Floor Plan and Interior Layout

Local Energy Compliance

Proposed Site Plan
Approve Design

Sign Contract

Approved Coordination Set & Contract

Studio Shed's Project Designer works with our 3rd party Structural Engineer to prepare your unique Permit and Construction documents based on your configuration and local design criteria.
Site plan

Floor plans

Design sections and details

Elevations

Electrical schematic

Foundation plan

Roof and wall framing plans

Structural design criteria

Structural sections and details

Structural calculations

Energy calculations
Submit to the authority having jurisdiction
Permit Plan Set Delivered

Your local building department's plan review timeline can vary greatly. We often recommend engaging the planning department early on in the project to make sure there are not unforeseen hurdles in their process. Your Project Manager and Project Designer are available to address any comments or concerns from the building department after they review the plans.
Revisions if required

Itemized response letter

Communication with authority having jurisdiction as required to resolve any concerns
Submit to the authority having jurisdiction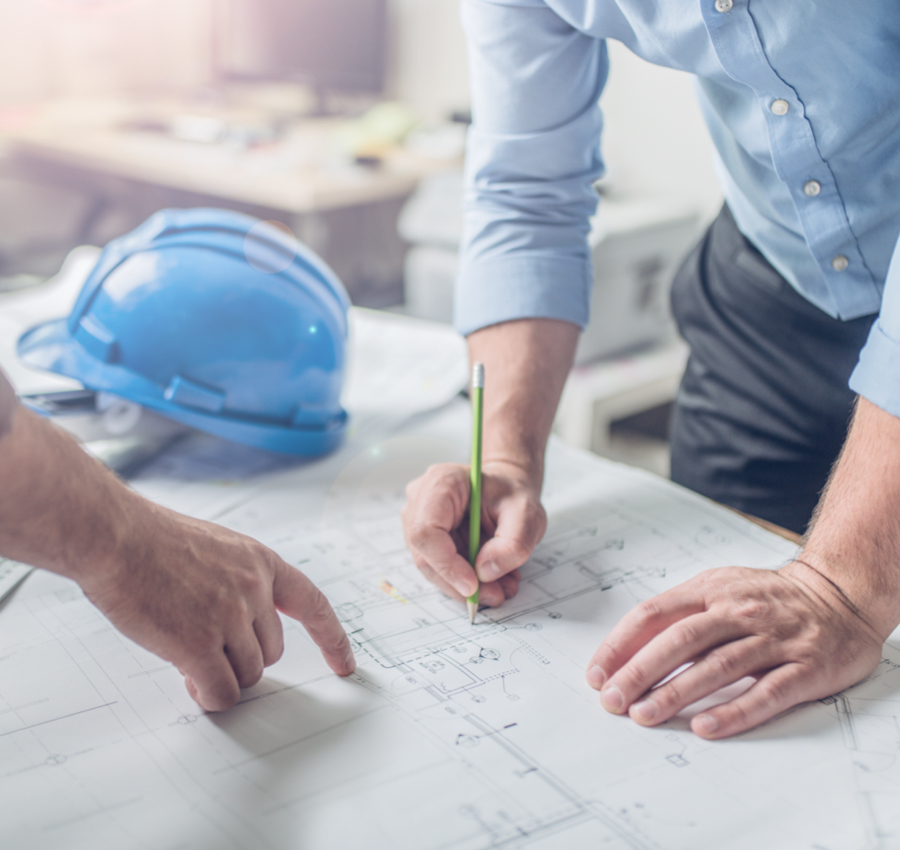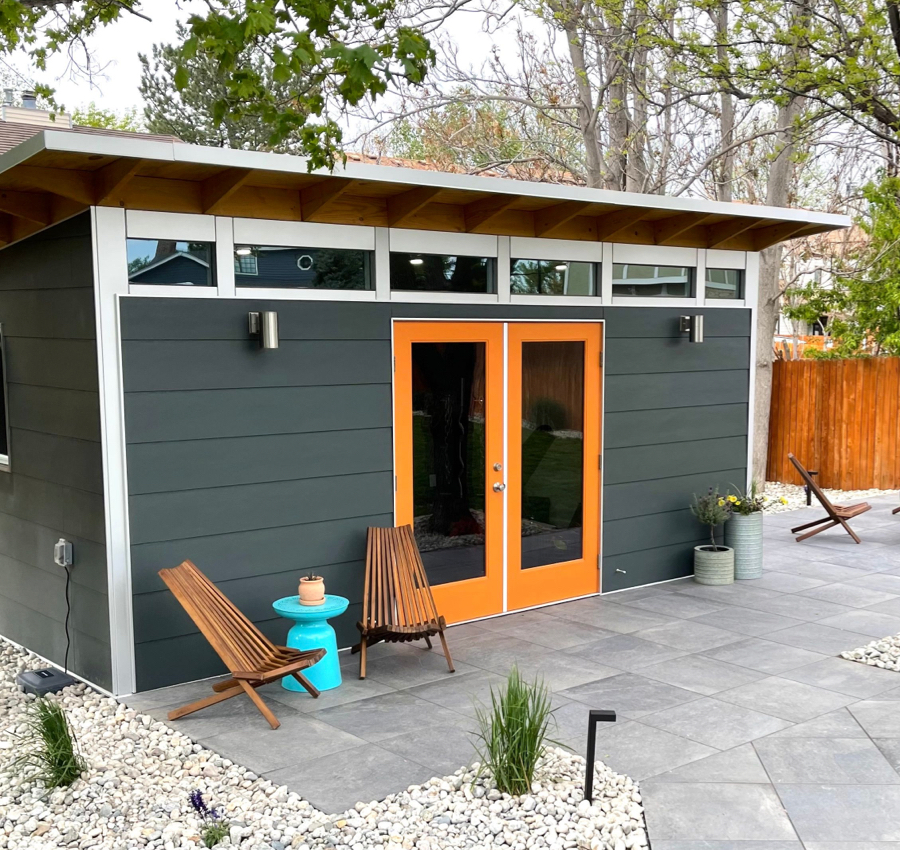 Permit Issued

Scope Call & Production

2-4 Weeks

Studio Shed's Project Manager (PM) approved plans (Coordination Set) based on your configuration and the site visit. The PM schedules a Scope call with designated installer and timeline to shipout and installation discussed.
Schedule scope call

Schedule production date

Review of custom/special considerations – i.e. windows, glazing, inspections, etc.

Answer any outstanding questions you may have about your project prior to delivery and construction.
Scope call

Questions for the Studio Shed team

Desired construction timeline

Delivery

Once the unit ships, you will have 30 days of free local storage to coordinate delivery to your site. If your site is ready for construction and you have coordinated with your contractor, installation can begin as soon as you receive delivery. Your Project Manager is your best resource to assist in answering install related questions as the unit is being built.
Support Network Contractor or DIY installation by phone and email as needed

Provide applicable project and installation materials to support a successful project

Provide support and solutions for any material damaged upon receipt or warranty claims

Provide all applicable warranty documents

Final Contract and supporting documents
Hand off-load the unit from semi-trailer to job site

On-site assembly

Coordination and completion of on-site inspections
Permit card and any related documents from the building department or inspectors

Site access

Proactive questions to avoid 'fire drills' while building

Cost of special inspections or other 3rd party requirements

Written verification of HOA approval

Access for delivery
Process at a glance

Frequently Asked Questions
Site Visit
The Site Visit Checklist will need to be completed in order to progress into the Design Coordination phase. The information provided in the Checklist is required to efficiently work through your design and set your project up for success!
Design Coordination
Chances are, yes. Any building that uses heating or cooling (conditioned) needs to comply with energy code. Further, any building that is considered 'habitable' is required to be conditioned.

CALIFORNIA: Additional material or equipment upgrades may be required outside of Studio Shed kit. Solar panels are required for all new conditioned residential buildings in CA.

Our permit plan set includes a general site plan based on GIS and Public data. Customer is responsible for verifying accuracy and providing a Survey or ILC if required by local jurisdiction.
Project Design
Building code allows us to make some assumptions, but ultimately the building official is allowed to request a soils report. If you are unsure, we recommend reaching out to the building department to determine if they'll require one for your project.

If any foundations on your site are showing signs of settling, or if you've needed to provide them in past, we recommend pursuing a soils report for your Studio Shed.
Permitting
No, Permit fees are the responsibility of the customer.
Scope Call & Production
Current material lead times are the largest factor in the production timeline. We are generally able to build and ship units with just a few weeks of permit approval, but site work and special materials can occasionally cause delays.

No, your Project Manager will be available all the way through completion of the unit to answer questions you or your contractor may have. Your Project Manager will also be your main point of contact if you have questions once the Studio Shed is complete.

It is unlikely, but feel free to ask your Project Manager. Most modifications will require another round of revisions with the city, additional design fees, and more time until you can build.

While we do not require you to take the call, we highly recommend you do so we may cover the necessary items to make your project go smoothly.

No. Your color choices are locked in once you sign the Coordination Set and Contract. As each building is fabricated individually, last minute changes derail the production, shipping, and installation schedules.
Installation
Only if a Studio Shed BATHROOM kit is purchased. Otherwise, this can be quoted by your contractor directly.

Depending on the foundation type (concrete or wood), you will use concrete anchor bolts or structural wood screws provided by Studio Shed.

By building individual components in our factory, we are able drastically reduce on-site construction time as compared to typical construction. Installation timelines vary greatly by region and project scope. A 10x12 shell-only installation can take as little as two working days, while a full ADU can take several weeks. Inspection timelines can also vary greatly by building department. Your timeline will be discussed more specifically in your scope call.

Ideally, by the time your unit is being delivered your foundation should be fully built, cured, and evaluated for proper conditions (ie: square, level, at least 8" above grade). If inspections are required these should be completed prior to delivery as well.

If DIY, you or your contractor should decide how these will be handled with the AHJ (authority having jurisdiction). If DIFM, your Studio Shed Network Contractor will schedule and be present (if necessary) for all inspections.

Contact your Project Manager immediately. They will ask you to provide photos and description of the damages (photographs need to be of material still on the truck if it arrived damaged on the truck). Your PM will determine the best course of action for repairing or replacing the damaged materials. It is critical that you inspect the materials for damages as soon as possible to allow SS to properly assess how to move forward and minimize construction delays.

Contact your Project Manager for guidance on how to properly store materials on-site. Please note that an unbuilt Studio Shed kit is not designed to withstand the elements for long periods of time if not properly protected.