On Your Journey to Building an ADU, You may be asking yourself many questions:
How much will an ADU cost me?
Will I have to pay someone to help design my ADU?
What is the long-term value of building an ADU on my property?
Can I afford to build an ADU at this time?
What other costs are associated with building an ADU?
Any home renovation or construction project can require a large investment of time and money. At Studio Shed we can meet you at any stage of your journey to help you build your dream ADU in an efficient manner.
Our ADU costs are predictable and clearly marked as you design your space in our 3D Design Center. Select from a range of sizes, mix and match interiors and paneling, include extra doors or windows at your discretion—these costs will all be calculated as you move through the process. No need to pay an architect or designer when planning your ADU. We make it easy to do it yourself or work with one of our experts to finalize your ADU plans. This helps keep costs lower and saves time throughout the design process.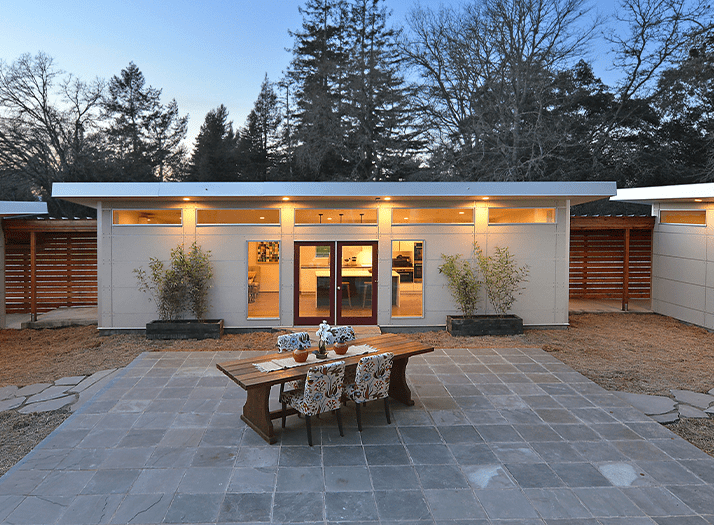 Summit Series: Prefab ADU
Explore the Summit Series, our premier ADU solution
Starting price for the product and permit plans around $40,000
About $250/sf for 400sf ADU product + assembly, site work, and permits
Other Costs to Consider When Building an ADU are:
Foundation
Our ADUs are built to stand on a poured concrete or self-supported joisted floor system. We can set you up with a ProBuilder who can provide an estimate for your site!
Shipping
Shipping costs are calculated in our 3D Design Center before you purchase. We ship to all 50 states and select locations in Canada.
Assembly
Do-It-Yourself assembly is the most cost-effective option, but if building an ADU (even a prefab one) isn't your forte, we have trusted assembly partners.