PLANNING YOUR STUDIO SHED
How long will it take to receive my Studio Shed?
Our typical turnaround time for unpermitted Studio Shed orders is 4-6 weeks from order date. The timeline for installed products can vary with the availability of our certified installation teams. If you are permitting your structure, lead-times could be longer and depends on the timeliness of your city / county building department.
Do I need a building permit?
It depends on the size and options included with your Studio Shed. Most counties allow for the construction of one 120 square foot structure without applying for a building permit. Be sure to check local regulations before ordering, however, as some municipalities have more stringent requirements.
Unpermitted projects have a shorter turnaround time, and are generally less expensive. For this reason, our 10 x 12 or smaller Studio Shed models are our most popular.
To make the permitting process as simple as possible, we offer several supporting products for clients who need to permit, or who choose a larger structure. We can provide full architectural plan sets as well as engineer-stamped drawings (for an additional charge) for any Studio Shed purchase that requires a permit.
How much will my Studio Shed cost?
Clear pricing for every one of our Studio Shed models is available in our 3D Design Studio. You can add or subtract window and door options, change sizes and see in real time how your customization affects the final price. Shipping and installation prices are listed as well.
Average all-in cost (Studio Shed, foundation, shipping, installation) for turnkey, professionally installed Studio Sheds with Lifestyle Interiors is typically between $120-180 / square foot depending on sizes and options. This is much less than the cost of a comparable home addition, and far simpler logistically as well.
How do I order, and what happens once I place my deposit?
Ordering your Studio Shed is simple. You can build your Studio Shed to your exact specifications in our 3D Design Studio and place a deposit directly on our website. We will contact you immediately to confirm any remaining details of your order – and to walk you through the production and installation timeline.
We also accept phone orders and encourage you to call our office any time with questions throughout the process.
How does payment work and do you offer financing?
For unpermitted orders, full payment is required at the time of order. For permitted units, we require a 50% deposit with the balance due four weeks before your ship date. We accept all major credit cards and checks.
If you are interested in financing your Studio Shed, many of our customers use an existing HELOC.  We also recommend Lightstream for quick and easy financing.
STUDIO SHED PRODUCT QUESTIONS
What is the difference between your product lines?
Our Studio Shed Signature Series line includes sizes from 6 x 8 up to 12 x 28. These can be built, customized, and ordered online in our 3D Shed Configurator. There are a variety of options available, from added height to Lifestyle Interior finishes – all selectable in the Configurator.
The Studio Shed Summit Series is available in sizes from 14×16 to 16×34. They feature taller ceilings, enclosed eaves, and a variety of customizable window and door placements selectable in our Summit Series 3D Configurator.
Our Portland Series features a gable-style roof and a variety of more traditional siding options. It retains the same high-quality mix of materials and clean design as our other product lines, and fits with a wide variety of residential aesthetics.
The Studio Shed Mini is a small storage shed sold exclusively as a Do-It-Yourself (DIY) kit. It's ideal for small spaces, tight side yards and is available in two sizes.
What does your Lifestyle Interior include?
All Lifestyle Interiors include high-efficiency insulation in the walls and roof, your choice of finished flooring, code-compliant electrical package, all interior/exterior fixtures and outlets, and all finish trim and hardware.
Clients who choose our Studio Shed Professional Installation also get a seamless finished and painted smooth knock-down (level three) drywall interior – turnkey and ready to use. Interior wall cladding is not included with Do-It-Yourself (DIY) Lifestyle Interior purchases, but a specific materials list is included to facilitate the easy purchase of these readily available materials by you or your contractor.
What is the 'square' / 'block' siding material?
James Hardie HardiPanel siding. A fiber cement product, designed for the severest of climates and to withstand anything mother nature can throw at it.
Is this a kit?
Yes – all Studio Sheds arrive as a flat packed kit.  Our pre-finished panels are fabricated in our factory, then crated and shipped to each building site where they are installed by our clients or professionally installed by our Professional Installation Teams
Who will install my Studio Shed?
We offer multiple installation options:
Do-It-Yourself (DIY):
As the name says, you do it yourself! This is a great option for the handy homeowner who enjoys a weekend project and wants to save money. Every DIY Studio Shed purchase includes the same installer training tools that we use with our own Professional Install Teams. From specific building plans to short videos detailing key steps, we've got you covered – and we're always just a phone call away.
Studio Shed Professional Installation – Shell Only:
Our Certified Installers take delivery of your Studio Shed and install all wall panels, roofing and siding. For clients who purchase a Studio Shed without a Lifestyle Interior, this is a complete installation of the product. This is also a popular option for clients who choose a Lifestyle Interior and have the ability to install and paint the interior finishes themselves as the electrical package and insulation is included.
Studio Shed Professional Installation – Shell + LifestyleTM Interior:
A premium turnkey installation of your Studio Shed and all options. If you want to go to work and have your new Studio Shed appear in your backyard over a matter of days – this is for you. All of our Certified Installers are licensed, insured professionals who deliver the same level of service we would expect at our own homes.
What about electricity?
Studio Shed models with Lifestyle Interiors include an electrical package for a simple electrical hookup and include all fixtures, switches, and outlets. Trenching and hookup to the home are the responsibility of the homeowner. In most cases our Professional Installers can work with you to provide this service. Depending on your municipality, you may need a permit.
Note: If it is required, obtaining an electrical-only permit is usually much simpler than a full building permit, which is not generally required for our most popular Studio Sheds.
Do you offer bathrooms, kitchenettes, or partition walls?
Studio Shed Summit Series models are available with interior partition walls for a turnkey bathroom or kitchenette layout. These models include permit-ready engineer-stamped plan sets that shows all wall, electrical, and fixture locations. Studio Shed does not directly sell interior fixtures, but this is often work that can be quoted for you by our professional installation teams.
What type of foundation do I need?
Studio Shed products are designed to be placed on either a poured concrete slab, or installed with a self-supported joisted floor system similar to a deck.
There are multiple options to attach our floor system to the earth. The most popular method consists of simple poured or pre-cast concrete piers. For small, unfinished units, a 4×4 skid foundation may suffice.
Because every site is different, other than for our pre-configured selections, Studio Shed does not directly quote the cost of foundations or pour concrete. However, this is a service that the majority of our professional installers provide, and they will work with you directly to get the best foundation for your site in an efficient way.
For our pre-configured selections, we offer a turnkey foundation system at a fixed price provided your site is level to within 6″ across the footprint of the Studio Shed.
How are they constructed?
Studio Shed operates a 10,000 square foot manufacturing facility in Boulder County, Colorado. We prefabricate wall and roof panels in our factory, and build all of our signature structural CloudLite and VistaLite windows in house.
Optimized engineering and clean factory production ensure the highest quality, minimal waste, and a product that installs efficiently. As with typical home construction, we use 2 x 4 wall framing (or 2 x 6 for larger units), sheathed with the high efficiency ZipWall system, then sided with HardiPanel cement board siding, and high-quality Galvalume for the wainscot option.
Our heavy-duty roof system is partially prefabricated in sections, engineered for maximum loads across the country, and constructed from 2 x 6, 2 x 8, 2 x10, or beams depending on the size of the Studio Shed. It is sheeted with ¾" plywood decking and finished with a weatherproof membrane and high-quality 24-gauge corrugated Galvalume metal roofing sheets.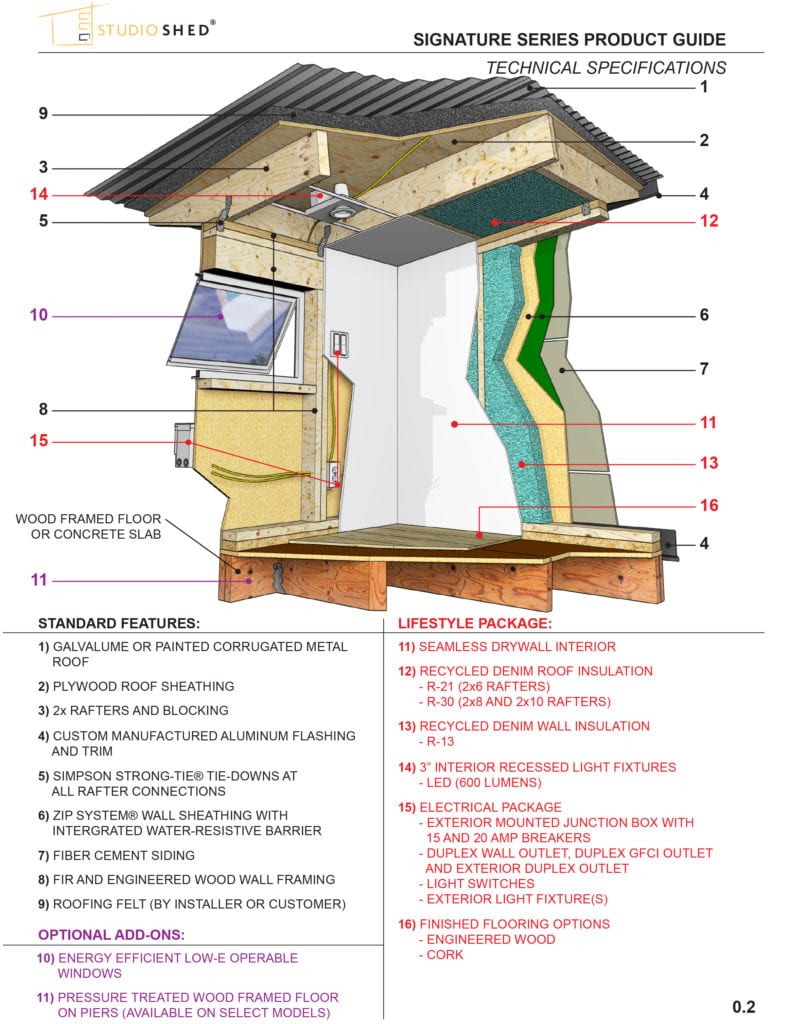 How tall is the roof and interior ceiling? What are other key dimensions?
For a 10 x 12 model, the interior ceiling height varies from 7'6" at the rear to 8'6" at the front. The tallest exterior point of the building varies by depth from 9'3″ to 9'8″ (when placed on a concrete foundation, it is higher if using our framed floor system). Expand the graphic below to view all key Signature Series product dimensions.
Do the rafters need to be treated?
It depends on your preference and your location. In some climates they can be left untreated. We offer pre-painted or stained rafters starting at $700.
OTHER QUESTIONS
Do you offer a warranty?
All Studio Shed products as well as our professional installations are backed by a 1-year warranty covering material defects and workmanship. Additional manufacturer warranties apply to our doors, windows, roofing, and certain other products included with your Studio Shed.
Can I live in it?
Check with your local authorities for occupancy regulations.
Do you ship internationally?
Studio Shed ships to all 50 U.S. states and select locations in Canada. Contact us for details and more information.
QUESTIONS FOR EXISTING CUSTOMERS
Where can I find supporting materials for my installation?
All of our product and installation guides, along with a complete DIY video are available at: https://www.studio-shed.com/installation-resources/
Also feel free to contact us with specific questions at any time throughout your order or installation process.