SINCE THE ORIGINAL STUDIO SHED, ENVIRONMENTAL RESPONSIBILITY AND COMMITMENT HAS BEEN BUILT INTO THE DNA OF STUDIO SHED.

Jeremy, Mike, and the entire team at Studio Shed are passionate advocates for the environment and the great outdoors.
Studio Shed's relationship to the built environment is a reflection of that passion. A Studio Shed is more than just a place to put things. It can be a space that saves a family the consumption and cost of a home addition, or a place that allows another to forego the polluting and time-consuming commute. Beyond our commitment to green materials, these are the impacts that a humble backyard shed can have on our world. Every Studio Shed model is constructed from a variety of green building materials. The dimensional lumber is FSC-certified. 100% of the unused metal in the fabrication of our CloudLite and VistaLite structural windows is recycled. Studio Shed uses high-quality, environmentally-friendly denim insulation and cork flooring to create spaces that are both comfortable and healthy.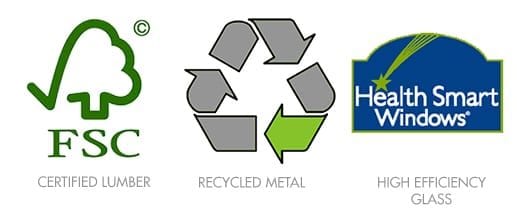 Each structure is engineered to create an absolute minimum of waste. There are no dumpsters on Studio Shed sites. On-site shed construction waste usually fills a large garbage can. We are pioneering a robust materials recycling program at our production facility, even down to composting all clean wood waste at the shop. Studio Shed partners with Native Energy to power our production sustainably, directly funding renewable energy projects throughout the country. We are proud to participate in GoalZero's Solar Ready initiative: We work directly with GoalZero to provide solar power kits for our smaller spaces.
At Studio Shed, good design, environmental stewardship and affordability are not conflicting ideals. The goal is to create spaces that add value to a home, to enhance and expand living space, while embracing the idea that living smarter is better than living bigger.