When Rob Gaedtke and his wife Shayna bought their Reno, Nevada property in 2006, they felt the 1,300 square foot house was nice but unexceptional. It was the backyard that clinched the deal.
The ¼ acre lot was perfect for a young couple hooked on outdoor living. To Rob, it was an empty canvas full of possibilities.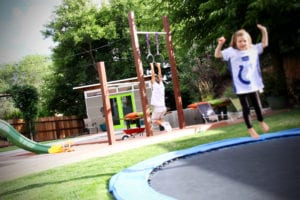 In the early years, Rob focused on building his advertising/marketing business. As his family grew to include a boy, a girl and a dog, Rob spent stolen hours adding outdoor play areas designed for both adults and kids. He did a lot of the work himself, hiring help as needed. Over time he kitted out his yard with handsome terracing, a fire pit area with built-in seating, a beautiful wooden fence and a sophisticated sand-surfaced play area with a slide, gymnastics bars and in-ground trampoline.
Indoors, things were a different story. After nine years, family life and work had maxed out all available space in the house. Rob and Shayna began exploring options to expand their living areas and gain dedicated office space, too.
Adding on to the house and digging a basement were two options they rejected as overly expensive and disruptive. That left the backyard. Rob had always wanted a multipurpose backyard shed. Was it possible that they could get what he'd always wanted and solve their space issues too? The couple shifted gears to rethink the notion of shed and multipurpose.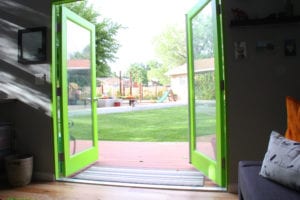 "In the end, a freestanding structure was clearly the most practical solution," said Rob. "Plus we love our backyard." They hired an architect to draw up plans for a structure that Rob would build himself to keep costs down.
"I was game but nervous. I'm very comfortable working with wood, building and finishing woodwork, cabinets and tables. But I'd never tackled a total scratch build or framed anything big, like a building."
By coincidence, right then, he found a Studio Shed image on Pinterest. His architect's plan was remarkably similar. But, with Studio Shed, he could buy a DIY Kit and get everything delivered pre-cut and prefabricated, complete with upgraded options.
"I went straight to the Studio Shed 3D Configurator and began playing with shed sizes and options," said Rob. "It's so well done, super easy. I took a photo of our yard and popped in images of Studio Shed structures. Shayna loved the mockups."
Rob ordered a DIY Kit for a 10-foot by 14-foot Signature Series Studio Shed structure with 72-inch glass French doors and a Vistalite window. Total cost was $10,402, with Rob handling the installation and interior finish. He delegated the wiring and drywall to hired pros. He found that Reno's permit process was a breeze.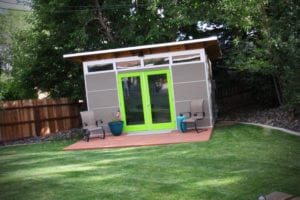 "Once I ordered the shed, it came really fast. The driver dropped off a full-size bed trailer in our cul de sac and my cousin Jonathan and I unloaded it in one afternoon. The weekend before it arrived, the two of us built the foundation. The following weekend, the two of us and my Dad built the whole shed, finishing everything in two days but the siding and interior.
"We were impressed by how easy it was to follow Studio Shed's plans. The instructions are clear. The parts are well labeled. It all goes together like a big Lego set. I'd been nervous about the siding, thinking it would be tricky to install. But it was incredibly easy, with all the holes pre-measured and pre-drilled."
Rob and Shayna's Studio Shed home office is beautiful, quiet, and easy to keep clean. It's also family friendly. "It's so easy to convert our work space to play space. We're set up to watch movies together out there, wired for sound indoors and out. Our kids beg us to sleep out back in the shed. We put in couches that convert to beds and our whole family camps out there at least one a week. If the kids had their way, this is where our family would sleep all the time."
What's the next project on his list? "I want to recreate the look of the shed for the house. So the house colors match our shed's tannish-gray siding and green doors," said Rob.
Category: Shed Stories