When Studio Shed was founded, our mission was to provide smart, flexible, and small spaces that had the potential to transform the way we live and work. As our company grows, so have the variety of uses of our spaces. We've pioneered the most efficient ways to prefabricate, ship, and install our signature backyard buildings. The knowledge we've gained through years of hard work has enabled us to launch our most ambitious product yet – the Studio Shed Summit Series.
The Summit Series takes Studio Shed to new heights. They are our most flexible buildings; they are suitable for guest studios, weekend retreats, accessory dwelling units, modern garages and more. Available in sizes from 14×18 to 16×34, they are perfect for those who need a little more space and versatility than our Signature Series. They use the same mix of high-quality and green materials as their smaller Signature Series cousins, with some new and efficient upgrades. They use 2×6 wall framing, enabling them to be put to use in areas of the most restrictive building and efficiency codes. They use integrated Milgard Clerestory windows, providing ample natural light and technical performance. Each one is taller than our Signature Series, allowing for overhead doors and a variety of creative applications.
We've also listened to your positive feedback about our original 3D Signature Series Shed Configurator. Putting the design tools in your hands has been a focus from day one, and the Summit Series is no different. We've launched a full design-build tool on our site where you can build your dream Summit Series model. There's no need to wait on custom renderings from an architect, you can design and visualize exactly what you'll be getting for your backyard. There are thousands of options for door and window placement, and this customization is a reflection of the industry-leading industrial design team our company is built around. Efficiency in production of these large spaces allows us to provide a solution for a fraction of the cost of adding comparable square footage to your home through the traditional route of design-build or custom remodeling.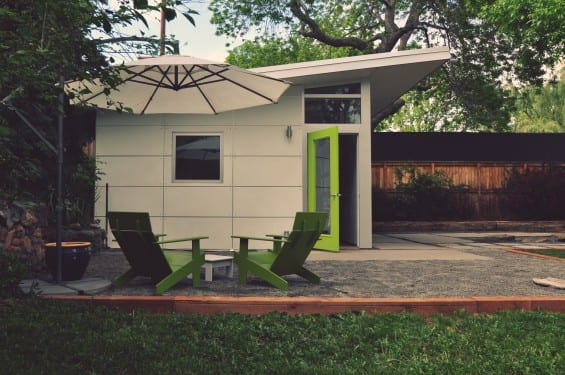 Take our new Configurator for a spin, and see what we've been working on here at Studio Shed. For those of you who are dreaming of more space in your life, contact one of our award-winning Customer Experience Representatives who can answer any questions you have about our new larger spaces. Smart and sustainable design remains our focus, and you can now live a little larger with Studio Shed.