Anyone who works from home knows how important it is and how tough it can be to "get away" now and then.For Eric Landek of Redwood City, California, the solution was to get away without actually going anywhere! No gearing up, no time wasted traveling to and from, before heading back to work refreshed and raring to go.
Eric's getaway is a 10' x 12' Studio Shed that's 130 feet from his back door. It's a half-minute stroll from his home office along a curved walk through the back yard, down a few steps to a spectacular paved patio and home gym.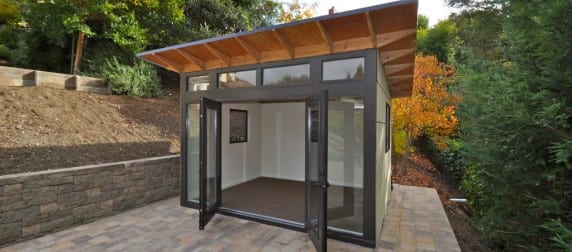 His backyard gym-in-a-shed makes it a breeze to get away during the day for a 45-minute workout. "It's a nice break," he says. "It's close to the house but very private and away from everything. It truly is a getaway."
Eric and his wife Michelle chose the Studio Shed structure for its look and efficient features. For options, they chose Studio Shed's full glass façade with double French doors plus 3' x 3' windows on the side walls. The result is an open room that's bright, airy and nicely cross-ventilated. For the exterior they chose Collins Block trim and painted the overhang dark brown to coordinate with the trim on their house.
Their shed was delivered to their door and installed by Studio Shed's local team. Overall, the project added significantly to their property value and quality of life, say the Landeks.
"We liked that no local permit was required to build a 10' x 12' structure and the space feels plenty large for our treadmill and bench with free weights, plus another piece of equipment if we want," says Eric.
In fitting out his gym, Eric painted the interior walls and trim himself, then added in-wall speakers and an LCD TV with stereo sound. "It's very pleasant here. We added patio furniture and landscaping. Working out, you face the French doors and patio. We positioned the glass wall facing north so there's no sun in your eyes."
What had been an unused corner of the yard, a slope over-run with weeds, now is a prime piece of their property. It's where they hang out. "We go down to the patio and shed and turn on the music. Our friends laugh when we call it 'the shed,' it's beautiful."