Whitewater rafting and skiing led Durango-based Kathleen C. to Studio Shed.
"I had a lot of equipment but nowhere to do maintenance or projects," said the West Point graduate and retired Army officer who now teaches adventure education at a local college and volunteers as a ski instructor and rafting guide for people with disabilities.
"I needed a dedicated workshop," said Kathleen. "My house is small, a two-bedroom with no basement and a charming but eclectic design. I tried using the second bedroom as a workspace but it was awkward to keep setting up projects, then having to dismantle them."
She decided an out-building would be more efficient. After researching garage and workshop designs online, she hired an architect to build a freestanding structure in the gravel parking area adjacent to her house. "I actually showed him the Studio Shed website I'd found and told him 'this is the style I want to complement the look of my house.'" She pointed out Studio Shed's clean lines and the way the clerestory windows provide good interior light.
The architect seemed to listen, then gave her multiple designs that echoed her home's eclectic look. None, however, captured the complementary style she'd shown him on the Studio Shed site.
"After a month, I stopped working with him and went back to the Studio Shed website," said Kathleen, figuring that if she wanted the Studio Shed style why not just get one. "The 3D Shed Configurator was very easy to use."
In no time, she'd settled on a 12-foot by 16-foot Signature Series model with operable side windows and French doors. "Originally I thought I needed a bigger space. But this was the largest size I could get here without a permit — and 12 by 16 turns out to be plenty big."
Before placing her shed order, Kathleen talked with Studio Shed's customer support team about installation options. DIY Kits are their most popular buying option, with two out of three buyers hiring a local contractor to install their shed. Studio Shed certified installation teams are also available in most major markets, or a customer can bring a team in.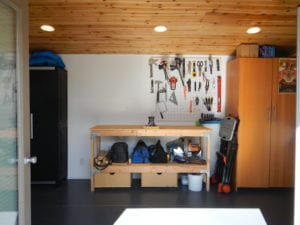 The DIY route made most sense to Kathleen. Before finalizing her order, she coordinated with a recommended local contractor to make sure he was comfortable with the project and she could get on his schedule. Though the contractor had never installed a Studio Shed structure before, he told her that the provided build plans and installation video gave him all the support he needed. He provided an estimate. Kathleen agreed and booked the job, then placed her shed order with delivery timed to his schedule. The contractor installed the foundation a few weeks before the prefab shed components arrived.
"Once the shed arrived, my contractor was really surprised at how fast it went up," said Kathleen. "He'd thought it would take two weeks. In fact, everything went together much quicker than he expected. The whole job took 5 days."
On Day #1, she said, the contractor and his men off-loaded the pieces and put up the walls and roof. Days #2 and #3, they finished the walls and roof and installed the doors and windows. Days #4 and #5 were spent installing the siding and tackling finishing details. They had no issues with the build.
Kathleen did the interior finish herself, including personally hanging the drywall. For a durable utility floor surface, she chose thick gray rubber matting from Home Depot. Her attention to smart positioning for sun exposure and good insulation in the floor, walls and ceiling resulted in minimal heating and cooling needs, year-round.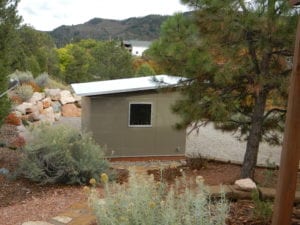 Once the shed was finished, Kathleen engaged a landscape architect to add hardscaping and plantings to connect her workspace to her home and reinforce the complementary – not matchy – look she'd wanted all along.
Overall, Studio Shed's quality materials impressed her. So did their economies of scale. Said Kathleen, "I'd thought that building my shed from scratch would result in real cost savings. But, it just isn't true. It would have cost so much more to get this kind of quality, building one shed on my own."
Category: Shed Stories